As we move forward, we have another such innovative idea in execution added to our pallette, but this time not light but darkness guides your way. India's first ever 'Seeing in Dark' restaurant-theatre built on the upscale Vastrapur area at Ahmedabad wherein visitors can experience life without light just like that of a visually impaired person, even for some time.
Temporary is the stay in such a condition but definitely an eye-opener as the visitors are left in absolute pitch darkness, this facility set up by Blind Peoples' Association (BPA) has all and everything covered in black from wall paint, floor, curtains, tables and chairs, air-conditioners to fans. That's not all, you can also experience a movie session in a 50 seater jet-black theatre, only listening to the audio version of Aamir Khan's starrer 'Taare Zameen Par', now that's definitely cool!
"The idea is not new, there are such restaurants in western countries. We have taken it up from them but this is the first of its kind in India," Director of BPA Nandani Rawal told PTI.
"The aim is two-fold, in a society where we see that sensitivities towards others are going down, we want people to have an experience of how life is if you do not have eyesight. This might increase their understanding for those who do not have it, People like us, who are gifted with all our organs in working condition, take them for granted. With the experience of 'seeing in the dark', we will appreciate and thank God that all our organs are in good condition," she said.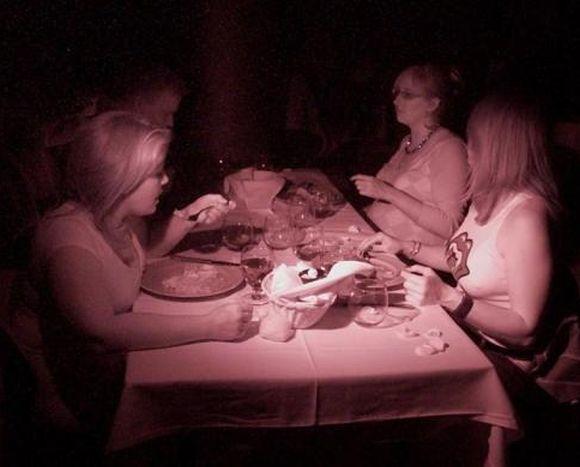 It's not just a restaurant but also gives a job out to trained blind people in diverse ways, its all for them, by them, to them. After being inside the restaurant and theatre for five minutes, visitors find it a moving experience," social coordinator of BPA Jagdish Trivedi said. "We spent around Rs 80-90 lakhs for these facilities as we have housed it in our building basement. But, money spent on it is not important as we want to create more sensitivity in people and especially children who will be visiting here. Anybody can come and visit these facilities," Rawal said.
Well, thats not all really, they plan to get their idea of 'seeing in darkness' across through other means by building more such facilities on the same premises where people can experience things like a village 'chauraha' (crossroad).
BPA is an NGO which works for all categories of people with disabilities for providing them education, employment opportunities, equal rights and quality life.